By Francis Njuguna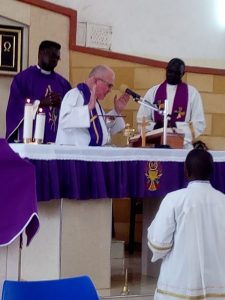 A colorful mass was held at John Baptist Catholic Church, Riruta, Nairobi on Sunday, March 6, 2020 for the South Sudanese Catholics/refugees residing in the Kenyan capital Nairobi. The over 100 refugees/Catholics were drawn from various parts of Nairobi where the refugees (men, women, youth and children) are residing and involved in different Small Christian Communities (SCCs). The mass was organized under these SCCs with the aim to pray for peace in their country of South Sudan.
South Sudan, Africa's newest nation, has witnessed various aspects of conflicts in the past, before and even after attaining its independence in 2011. This phenomenon has led many of its people to flee the country as refugees. It is notable that various efforts to being peace in this Eastern African region have not yet managed to success. The Catholic Church has continued to accompany the people in their quest for peace.
Father John Andrea from Wau was the Chief Concelebrant of the colorful mass on peace. The concelebrants were by Reverends Jacob Nhial Gatluak and Joseph Healey. In his homily Father Nhial stressed the centrality of peace, not only in the country, but within families and society in general. "While we pray for peace in our country, we must also pray for the same thing within our families and the society in general," he emphasized.  He commended the congregation for thinking of coming together to pray for peace in the country. "Our political leaders must lead the way towards peace building in the country. We have mandated them to undertake this mission," he added.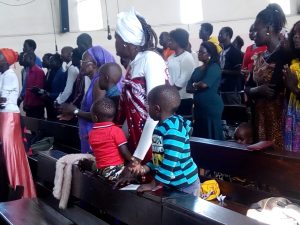 Father Healey, commonly known as "Mwanajumuiya", a Kiswahili word for a member of SCC, also emphasized the centrality of peace in any given society including the one of South Sudan. "Our leaders should help us bring and work for peace in South Sudan," he underscored, while stressing that it was not within God's plan that human beings should and continue to suffer.
The mass brought together the refugees/Catholics from four spread out SCCs, namely: Saint Joseph, Kasarani; Saint John of God, Umoja; Saint Daniel Comboni, Riruta; and Saint Peter and Paul, Jamhuri. Two catechists, Simon Reat Mar and Sammy Kume, participated fully in the animation of the mass.
Francis Njuguna
Nairobi, Kenya
0720-434819/0782-350649