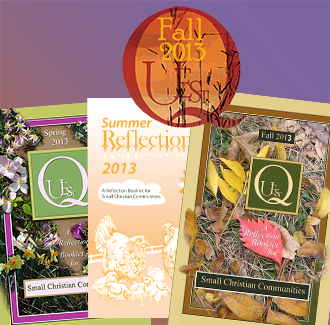 Fall 2013 QUEST: A Reflection Booklet for Small Christian Communities is now available in English and Spanish.
Each weekly unit offers elements to create your own SCC:
• Suggestions for creating a reflective environment
• Opening and closing prayer
• Focus question relating everyday life to scripture
• Commentary on the Sunday lectionary readings
• Experience-based faith sharing questions
• Ideas for individual/group response in action
Edición limitada. Ordene sus ejemplares para asegurar sus copias.
• Sugerencias para crear un ambiente de reflexión
• Oración inicial y final
• Pregunta que ayuda a relacionar la vida diaria con la Escritura
• Comentario de las lecturas del día Domingo
• Preguntas que ayudan a compartir la fe basadas en experiencias
• Ideas para cada integrante y para el grupo para poner en acción la reflexión
To order today:
Contact: The Pastoral Department for Small Christian Communities, Archdiocese of Hartford
467 Bloomfield Ave, Bloomfield, CT, USA 06002
Phone: 860-761-7450
or Email your request along with your name,
address and daytime phone number to orders@sccquest.org today!
Please follow and like us: